After the successful launch of PEPFAR Dashboards v2.0 in 2014, 2Paths (Prime Contractor) and DesignStamp continued working with the organization in a maintenance capacity. In mid-2015 we received word that PEPFAR had increased the number of indicators to be reported on the public dashboards. As well, we were to include more detailed maps—at a sub-national level as v2.0 was national-only—in time for World AIDS Day 2015. While the redesign we had implemented the previous year was doing well, it was technically unable to present the 2015 datasets, so we had to redesign the dashboards to accommodate the new features and better data.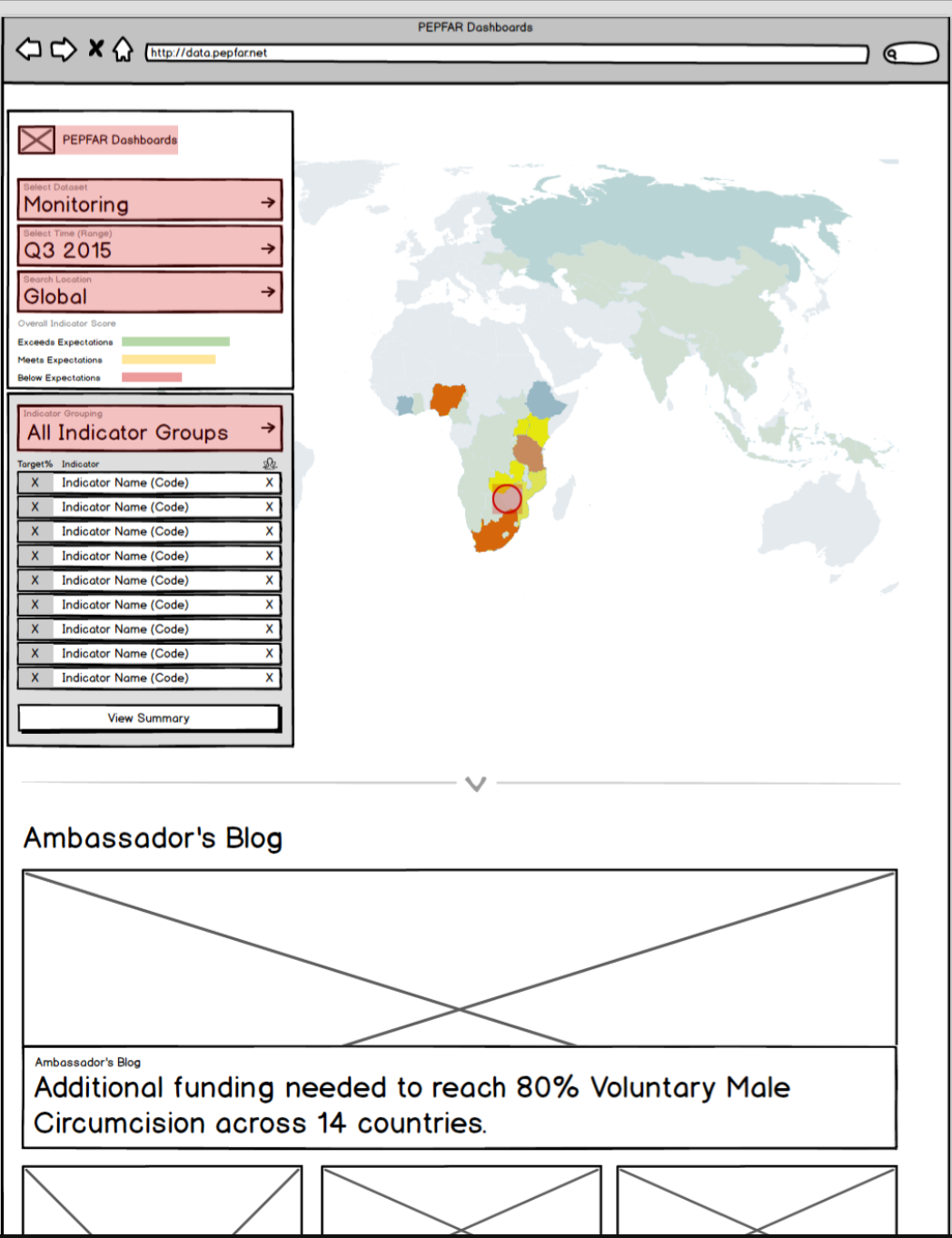 Though we had completed a series of stakeholder interviews the previous year, we interviewed additional PEPFAR staff to deepen our understanding of how data are handled from field report-to-database. This involved remote interviews with PEPFAR managers in Washington, but also with Data and Program Managers abroad. I scheduled these interviews, co-interviewed the participants, documented our findings and then presented solutions for how best to include new data—and quarterly updates for successive years.
Once we had discussed the intricacies of each new indicators and agreed on how best to present these data, I began prototyping each workflow. Again, while the previous years' dashboards had performed well, this revision provided an opportunity to focus information. Now having worked with PEPFAR programmatic data for over a year, we also had a better relationship with data and program managers, and worked to present dashboard visualizations that matched their common queries. This reconfigured approach allowed us to build on a concept we had started the previous year; to present key statistics that could be easily understood by new users, but also allow advanced users options to drill into more complex information. An extension of this was the addition of a "comparison" feature where users could view side-by-side visualizations for different regions and groupings for the new sub-national results dataset. Lastly, from v3.0 onset, I championed a more holistic approach to accessibility for users with visual and auditory disabilities. This involved research and testing for different visual scenarios, colour thresholds, and levels of contrast, but also included plain language improvements and testing content organization using a screen reader.
Apply
After completing the high-fidelity designs, I prototyped successive features using Invision and communicated project updates to development teams and external stakeholders. I also wrote feature descriptions, acceptance criteria, and component breakdowns in collaboration with the 2Paths development team. As development continued, I grew into the roll of in-house knowledge holder for the intricacies of each dataset. In a quality assurance role, I continued to audit site copy and improve contextual help throughout each section of the dashboards. Lastly, I worked with PEPFAR specialists and 2Paths developers to define and overcome mapping and charting inconsistencies and finally, smoke-testing deployments in each sprint of development.
Project Credits
Role
Business Analysis, User Experience Design, Interaction Design, Visual Design
2Paths (Prime Contractor)
CEO, Account Manager - Aaron Gladders
Project Leader - Laure Mouillet
Project Manager, Senior Software Developer - Lorill Crees
Senior Software Developer - Alan Hill
Senior Software Developer - Eric Ching
DesignStamp Creative Group
Creative Director, User Experience Designer, Account Manager - Gagan Diesh
Art Director, Visual Designer, Front-End Developer - Kim Oxlund
Optimus Information
Project Manager - Daniel Flippance