Winner of 2015 Vancouver UX Awards 'UX for Enterprise'
In the spring of 2014, we were tasked with re-designing a well-liked interface. This was difficult because it's an interface that DesignStamp had originally designed back in 2011. While some of the features have stood the test of time, the app needed to be updated for modern devices, multiple operating systems (and versions of operating systems), larger screen sizes, and overall ease-of-use. We set out to achieve three goals:
Help novice users to gain confidence and proficiency in mobile banking.
Accelerate task completion for advanced users.
Earn the title of "number one mobile banking app in Canada".
We started with a thorough heuristics audit to isolate areas of improvement and rank them based on severity. From project onset we worked with three champion credit unions to refine existing features and create new workflows, interface styles, and customizations. These credit unions were involved in our agile process to represent over 170 different credit unions, with unique brand and customer segments, that the core product needed to accommodate.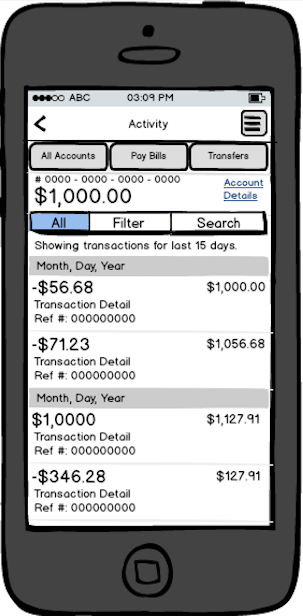 I created high and low fidelity wireframes, clickable prototypes, and video prototypes for 20 different mobile banking workflows. We then created a comprehensive styleguide that could address these customizations and features. In the world of finance, this arrives with a standard set of security protocols and best practice, but also many unique scenarios related to each credit union banking host configuration. Flexibility and brand-ability is an important offering for Central 1's core mobile product. Wherever possible, we advocated for moments that could create mutual wins for credit unions and their customers. An example of this is our use of plain language throughout the app; we closely considered all of the copy to demonstrate tasks concisely and move users to subsequent tasks, intuitively. From onboarding, to notifications, to settings, we factored "what" we were communicating, but also "how" to best communicate it within limited screen space and character counts. We also created an icon styleguide with positive and negative examples, and guidelines to afford credit unions the flexibility to create their own icons for additional features.
In total, we created over 1,300 design peripherals that are now in use, as well, we've designed new features and workflows that will be released in the future, along Central 1's product roadmap. The art direction and visual design concept was created by Kim Oxlund, then we jointly designed screens and variations for each workflow based on our styleguide and templates. Working in an agile environment, I created app-map descriptions and workflow presentations for weekly reviews with Central 1 and also presented user experience concepts during bi-weekly check-ins with champion credit unions.
At regular intervals throughout the project we conducted usability testing, as development of workflows were completed. I worked with Central 1 and champion credit unions to screen and recruit participants, design task scenarios, schedule testing sessions, set up video and audio assist, conducted testing, interpreted results, and presented findings to project stakeholders.
This project was an ongoing development that spanned May 2014 - September 2016.
Credits
Role
Business Analysis, User Experience Design, Interaction Design, Project Management

DesignStamp Creative Group
Creative Director, Business Analyst, Account Manager - Gagan Diesh
Art Director, Visual Designer, Front-End Developer - Kim Oxlund

Central 1 Credit Union
Product Manager - Alexander Chan
Business Analyst - Indrani Savant
Project Manager - Wendy Hackney
Project Manager - Caryl Longden
Project Manager - Param Chauhan
Design Manager - Patricia Abbott
Icon Design - David Beneteau
Web Developer - Joe Ocampo
Web Developer - Benny Chen
Web Developer - Mitch Ferguson
Senior Software Engineer - Benny Li
Software Developer - Alex Chan
Quality Assurance Analyst - Roy Patel
Champion Credit Unions
Coast Capital Savings
Conexus Credit Union
Vancity Credit Union